Our main activity includes technical support and the selection of dedicated solutions, including investment, renovation maintenance and optimization solutions in the field of new technologies, ways of organizing and supporting production.

SOLUTIONS FOR BUSINESS
Types of our solutions:
1. Providing new effective and innovative solutions in the field of:
industrial automation
power hydraulics
mechanics
2. Support for new investments:
Planning
Design
Assembly
Launch
3. Maintenance:
Preventive
Routine
Planned
Monitored
Emergency
4. Supplying spare parts:
Standard replacement parts
Spare parts on request
Reproduction of spare parts from nature using the Rapid Prototyping method
Redesign of spare parts
Certification tests of spare parts
Consignment warehouse of spare parts
5. Examples of industry projects::
FOUNDRY AND STEEL INDUSTRY
equipment for the technology of chemically bonded sands
spare parts for blast machines
spare parts for chemically bonded sand equipment, including: mixer fillers, pneumatic transport systems, sand regeneration systems
repair of electronic systems
modernization of control systems
vibration technologies (transport of sieving/knocking out, spare parts for all devices used in the foundry industry, shock grates, mass cooling systems, shot blasting machines, shooting machines, induction furnaces and many others)
STEEL STRUCTURES PRODUCTION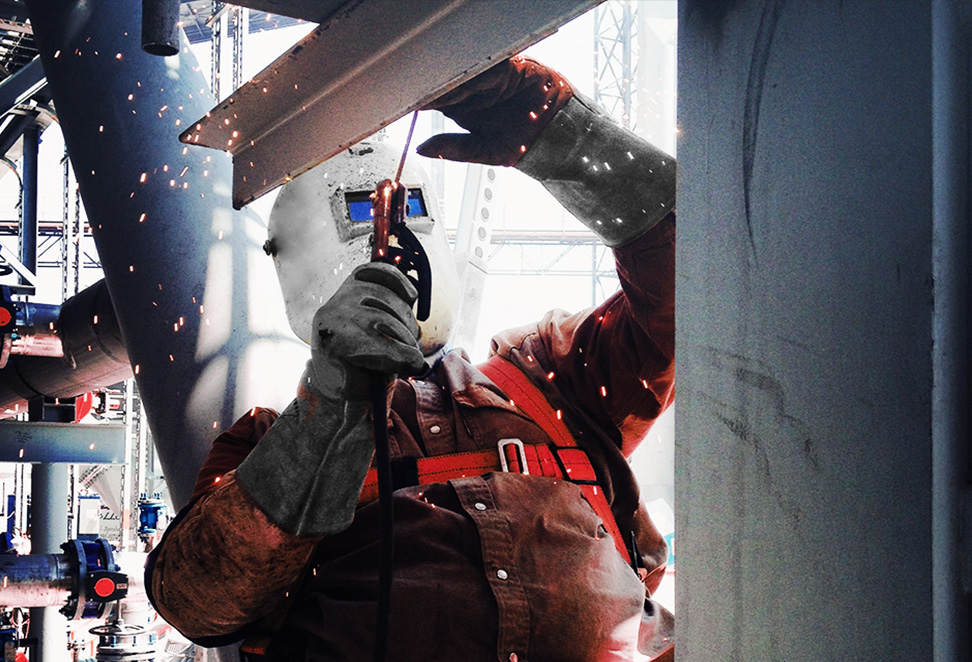 We offer services in the field of comprehensive execution of steel structures:
designing,
production,
assembling.
We have our own steel structure factory and a wide base of permanent subcontractors in the following scope:
TIG/MIG/MAG and gas welding,
surfacing,
plasma, oxygen and laser cutting,
automated cutting and CNC machining,
shot blasting and painting,
galvanic coatings,
We have the following certificates: PN ISO 3834; PN ISO 1090; PN ISO 15085 giving the possibility of welding black steel, stainless steel and aluminum.
Our constructions are delivered all over the world and work in the following industries:
construction
machine
agricultural
railway
mining
foundry
Sample products:
welded steel structures
silos and tanks
pipelines
supports
dust extraction channels
precise equipment for CNC machines
welded devices prefabricated devices
welding of tracks, castors, turntables
welding of mechanical elements with complex geometry
welding of covers and structural elements

RAIL INDUSTRY
We offer design and engineering solutions and spare parts for the broadly understood rail vehicle industry:
1. cast iron brake blocks:
DO-250B insert
DO-320B insert
DO-380B insert
W14,
2. composite brake pads,
3. elements of rolling stock equipment:
rail vehicle lighting,
blinds and other window accessories,
door parts and locks,
toilet equipment and parts for vacuum toilets,
tables, dustbins and other interior furnishings,
electrical and electronic parts,
parts for Hasler and PIAP speedometers and transmitters
conductor keys, safety hammers and other keys,
HARTING connectors and solutions
railway springs
spare parts
elements of locomotive equipment
elements of tram equipment
repair of components for rail vehicles
4. Polyester glass laminates:
external elements (vehicle fronts, bumpers, headlight covers, roofs, etc.) and internal elements (wall and ceiling linings, toilets, restaurant cars, driver's cabins, dashboards, etc.).
models, forms, end elements armed with metal inserts based on the submitted technical documentation
laminates meet the requirements of the PN-EN-45545-2 standard for non-flammability required in rail vehicles
5. Wheels, rims.
6. EMPLOYEE OUTSOURCING
We provide employees for individual industries with the following profiles:
production line worker
construction worker
an employee of installation works
welding worker
assembly worker.